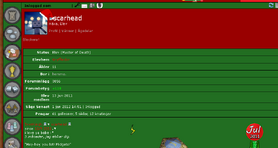 scarhead, jag - carvedmemory, är en Gryffindor-medlem som är 11 år och varit medlem sen 13 juni.
scarhead är som sagt en medlem av det djärva, modiga elevhemmet Gryffindor, men i början så ville hon (jag....) vara medlem av Gryffindor bara för att The Golden Trio var medlem där, men hon blev mer och mer lik en Gryffindorare. Nah, just kidding, hon kallar sig en men är riktigt feg. :PPpppPpppPPPppPP Men hon bär stolt den röda färgen på hennes namn. Men scarhead var tydligen upptaget så hon fick inte heta det här.
Dom sista månaderna av 2011 fick hon många vänner på Mugglis, och märkte av hur mycket Mugglis betydde för henne. Hon är en stor fangirl till mycket - det gick från Ron Weasley till Rupert Grint, fråm Rupert Grint till Logan Lerman, från Logan Lerman till Niall Horan och från Niall Horan till One Direction. Hon lurar bland många fandomar; Harry Potter, Glee, Narnia, Hungerspelen, AVPM och mm.
scarhead har en fin drake - vid namn Alec. Hon fick honom två dagar efter julafton, och han är en kinesisk eldsboll.
scarhead är väldigt forever alone, hon tillbringar tiden på Tumblr, lyssna på musik eller titta forever alone på filmer, fangirlar eller är hemma i Intresseklubben antecknar där hon flummar sönder eller skaffar forever alone-vänner.
Ad blocker interference detected!
Wikia is a free-to-use site that makes money from advertising. We have a modified experience for viewers using ad blockers

Wikia is not accessible if you've made further modifications. Remove the custom ad blocker rule(s) and the page will load as expected.