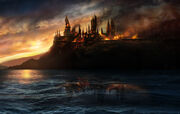 LeeGordan (jag) blev medlem på Mugglarportalen i Augusti eller September 2011.
I början delade han sin användare tillsammans med sin syster, LoonyMe. Men efter 2-3 veckor tillsammans på en användare så ville inte jag dela längre så hon gjorde sin egna användare i Ravenclaw.
Att LeeGordan blev placerad i Gryffindor var ingen slump. I alla test han hade gjort blrv han en Gryffindor.
Efter nästan en månad på Mugglis kämpade han sig äntligen upp till 1000 inlägg och blev en Master of Death.
Hans första drake var en Walesisk Grön vid namn Wellington. Men han dog 66 dagar gammal, men vid det laget hade LeeGordan redan skaffat sin andra drake, LeeGordan Jr. Och nu för inte länge sen skaffade han sig sin Ungerska Taggsvans superman, döpt efter medlemmen superman på Mugglis. Hans nästa drake och nästnästa drake har han redan bestämt namn på, dem ska heta Miyuki och avifors.
En dag när han var sjuk hade han en stor längtan efter en kvast eftersom han hade ett quidditchlag (The Red Devis). Så han satt och spelade Snape en hel dag. Och tillslut fick han sin Nimbus 2000.
Hans stora dröm är att få ett brev från Hogwarts, som många andra på Mugglis.
LeeGordan har alltid haft stora problem med pengarna på Mugglis. Han har
knappt råd att köpa chokladgrodekort varje dag.
Det var lite om LeeGordan ;)
Ad blocker interference detected!
Wikia is a free-to-use site that makes money from advertising. We have a modified experience for viewers using ad blockers

Wikia is not accessible if you've made further modifications. Remove the custom ad blocker rule(s) and the page will load as expected.