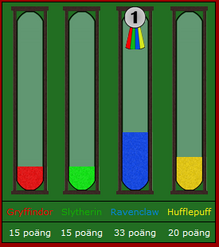 Elevhemstävlingen på Mugglarportalen är precis som elevhemstävlingen i Harry Potter - man tjänar poäng till sitt elevhem, och i slutet av varenda skoltermin får man veta vilket elevhem. Men på Mugglis är det lite annorlunda, istället för slutet av varje skoltermin, så får vi veta det i slutet av varje månad.
Man tjänar in poäng genom följande sätt:Edit
Lättaste sättet är genom att spela frågesporten, man måste ha fått 20 poäng för att tjäna in poäng. Men man får bara spela frågesporten tre gånger om dagen. Ett lite svårare sätt är genom att få poäng genom att skriva ett inlägg som förtjänas få poäng. Men det är svårt att få det, för man vet inte riktigt hur man ska skriva för att få poäng.
Ad blocker interference detected!
Wikia is a free-to-use site that makes money from advertising. We have a modified experience for viewers using ad blockers

Wikia is not accessible if you've made further modifications. Remove the custom ad blocker rule(s) and the page will load as expected.