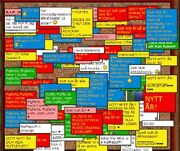 På Mugglis finns det en Anslagstavla där alla medlemmar får skriva exakt vad de vill. På anslagtavlan kan man välja vilken färg man vill skriva inlägget i (blå för Ravenclaw, röd, för Gryffindor, gul, för Hufflepuff, grön, för Slytherin, vit och rosa). På anslagstavlan skriver medlemmarna oftast pepp till sitt elevhem i elevhemstävlingen.
OBS! Det är anonymt (alltså ingen ser vem som har skrivit det), MEN rektorn och de i staff kan se vem som skrivit det, om det är en som har skrivit något dumt kan staff se detta och anmäla personen. Så tänk er för innan ni skriver, ändå ;)
Ad blocker interference detected!
Wikia is a free-to-use site that makes money from advertising. We have a modified experience for viewers using ad blockers

Wikia is not accessible if you've made further modifications. Remove the custom ad blocker rule(s) and the page will load as expected.